While Australia has managed to control the recent COVID-19 pandemic better than most other countries around the world, there are several restrictions and rules in place that have helped with this. These restrictions govern various lifestyle aspects from social gatherings and employment, to nights out and holidays.
If you're planning a holiday to New South Wales and aren't sure about what you can and can't do or what the holiday restrictions in NSW are, here are the basics you need to know.
Are Hotels Open in NSW?
Hotels registered as COVID Safe in NSW are open and welcoming guests as usual. However, things may be a bit different than you're used to. Crowne Plaza Coogee Beach is registered as COVID Safe, implementing extensive cleanliness and hygiene practices as part of our IHG Clean Promise to ensure your stay is as healthy and safe as possible.
On arrival, the first thing you'll notice is that all of our staff now wear face masks when inside the building. Social distancing guidelines and signage help all of our guests adhere to the recommendations, and hand sanitiser is available in all high-touch points and guest rooms in the hotel.
Our self-serve buffet has also been replaced with a delectable array of a la carte menu items, ensuring you start your day the right way with a variety of hearty and healthy options. Don't worry, as part of the inclusive breakfast package you can order as much as you want until you're full. While our gym is currently closed due to restrictions, our outdoor pool is open (capacity of 20 people) letting you cool off from the heat of the day or soak up the rays in peace.
Can I Travel to NSW?
While unrestricted exit and entry across the rest of NSW is completely fine, the NSW Government recommends delaying non-essential travel between regional areas and Greater Sydney where possible.
There are currently no requirements for visitors and those holidaying in NSW to quarantine when travelling from any state or territory or those coming from New Zealand. However, quarantine or isolation may be required when entering other states or territories from NSW.
Are There any Beach Restrictions in NSW?
When visiting NSW on holiday, our beaches are one of the biggest draws for couples, families and solo travellers from around the globe. While international tourism is still on hold, domestic travel is a go, and the beaches are open across the state.
With that said, there are still some things you'll need to follow at all beaches in NSW, including following all current physical distancing rules, such as remaining 1.5m away from others on the beach and maintaining good hygiene practices. During peak times, beaches may reach capacity, and you may be turned away to help avoid overcrowding and preventing transmission of COVID-19.
Some beaches are much busier than others, meaning there are plenty of hidden gems and beauty spots to discover away from the big players such as Bondi Beach. Coogee Beach offers up pristine waters, soft sand and everything you need for a family-friendly day by the waves minus the hordes of tourists. There are nearby ocean pools such as Wylie's and Mclvers Baths.
Are There any Bar & Restaurant Restrictions?
In Greater Sydney, Wollongong and the Central Coast restrictions are in place for indoor hospitality venues including bars, cafes, restaurants, micro-breweries, cellar doors, pubs, clubs and casinos.
On arrival at any hospitality venue in NSW, customers are electronically registered using the Service NSW COVID Safe Check-in app. This can be downloaded onto your phone. If you don't have a phone, your contact details will be manually collected. All hospitality venues that open must also be registered as COVID Safe and have appropriate restrictions in place.
Restaurants are currently not permitted to operate buffet and self-serve style dining in NSW. Alternative options should be put in place, including sit down meals ordered via a menu or mobile app. Discover the best Coogee Beach bar and restaurants here.
Are There Any Restrictions During School Holidays?
There are currently zero restrictions for school holidays and holidays in general to NSW after 9 January 2020, by which the Northern section of the NSW Northern Beaches receive an easing of lockdown restrictions. The majority of guidance is the same around the country, such as observing social distancing, maintaining good hygiene and following any rules governing face masks.
Are Face Masks Mandatory in Sydney and the Suburbs?
As of January 5th, 2021, face masks are mandatory in certain areas and situations in NSW. Those visiting Greater Sydney, including the Blue Mountains, Wollongong and the Central Coast will be required to wear a face mask in the following indoor situations:
In supermarkets, shopping centres and shops.
In post offices, banks and Service NSW centres.
In cinemas, theatres and entertainment venues.
In hair salons, beauty parlours and barbers.
On shared and public transport, including stations and waiting areas.
When visiting aged-care facilities.
Unless it is a child under 12 years of age or an adult with a valid health reason, on the spot fines of $200 will be given for non-compliance. It's a good idea to wear a face mask or face covering whenever entering a public indoor space to be safe. Holiday restrictions in NSW are exempt for face masks, whilst dining at both indoor and outdoor venus.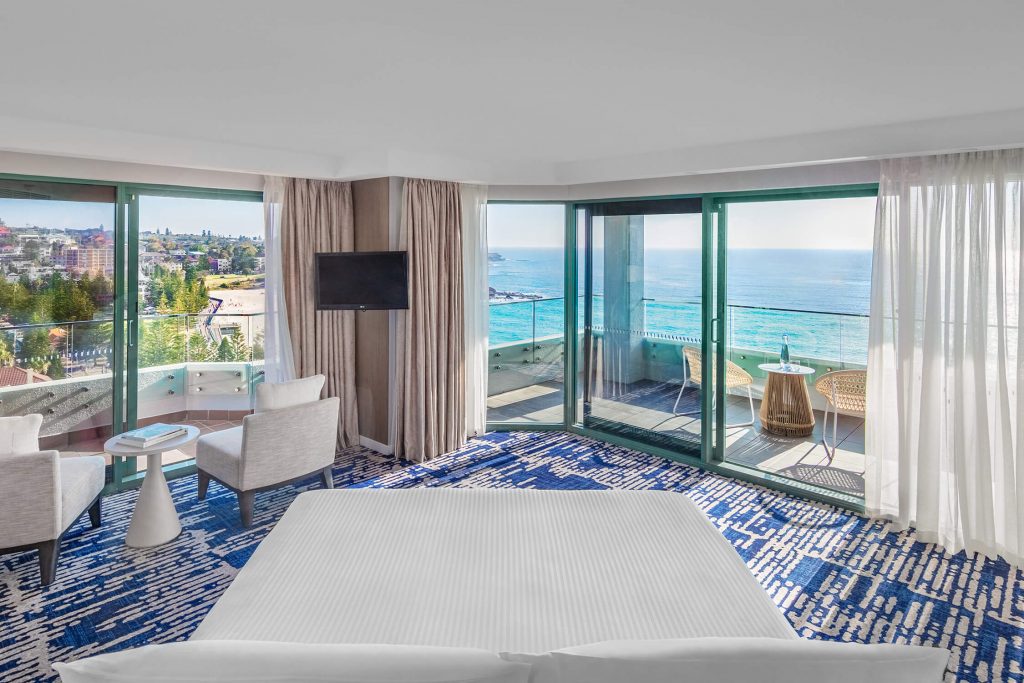 Safe Stays and Holidays in NSW
Whether you're looking for a beachside escape or somewhere to relax and unwind for a few days, Crowne Plaza Sydney Coogee Beach has the perfect summer accommodation special for you. Located next to the beautiful Coogee Beach and near to local cafes, restaurants and activities - it's the ideal choice for a long weekend, a romantic getaway, a family holiday or an ocean lovers staycation.
When making a booking, you can rest assured that our flexible packages ensure your trips are protected in the event of COVID-related disruption. Enjoy sipping margaritas by the pool, taking breakfast on an ocean view balcony, exploring the local attractions and rediscovering the beauty of a beachside holiday.
Holiday restrictions in NSW are few and far between, meaning a few days of beach fun in the sun are entirely possible. Meanwhile, we'll keep our IHG Clean promise so you can spend more time enjoying your stay without worry. Book your stay today and get ready to explore one of NSW's best-hidden gems.